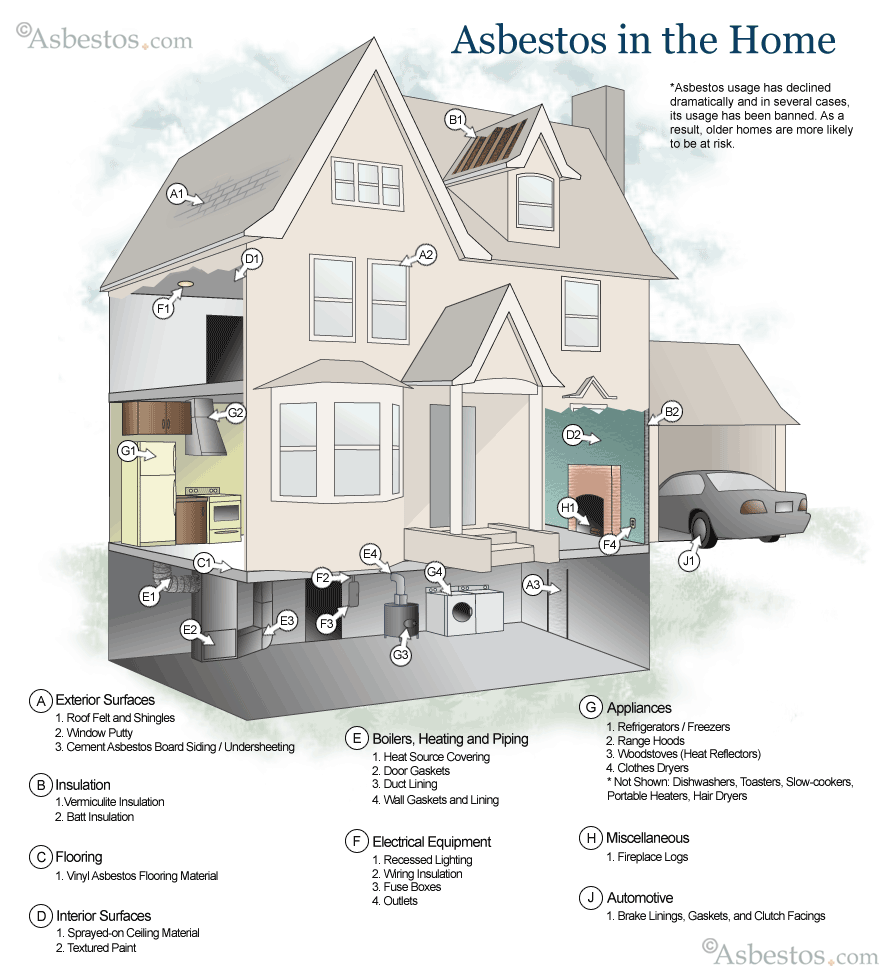 Located in the western region of the United States, Nevada is a Mecca for those wanting to view Mother Nature's beauty first hand. With a large amount of natural parks, lakes, canyons and scenery, what home buyer would not want to call this state their home?
The road to owning a home is a wonderful experience, but requires new responsibilities. Homes that are newly purchased may require additional remodeling or repairs. Having the assistance of an honest and reliable Nevada real estate agent can make all the difference in the world.

Asbestos Tips & Prevention
Used throughout the 20th century to insulate pipes, boilers and in roofing, asbestos gained recognition due to its resistance to heat and electrical conductivity. Asbestos typically appeared in ceiling insulation, piping, siding, roof shingles and flooring. Homes and buildings built before 1980 may still contain asbestos materials.
If you are located any suspected asbestos in the home, the best advice is to leave it un-disturbed and un-touched. Asbestos that remains in that state will likely not pose any cause for concern. When it becomes disturbed due to age or human interaction, this is known as "friable" asbestos. This can become a concern because the potential for its fibers to become airborne is possible.
If asbestos needs to be removed, it should be performed by licensed abatement contractors. These contractors are trained in the handling and disposal of asbestos in public facilities and homes. Although it may prove to be costly, it is worth the price for achieving a healthy home. Prolonged exposure to airborne asbestos may lead to the development of a rare, but aggressive form of asbestos lung cancer known as mesothelioma. Diagnosis of this asbestos-related lung illness is a difficult task due to a long latency period and many mesothelioma symptoms mimicking less serious ailments.

Benefits of

GREEN

Building
Many states throughout the country are taking an active role in not only implementing green, Eco-friendly methods of building, homeowners can now receive tax credits for doing so. By utilizing green energy home solutions, citizens and homeowners can play an active role in the transformation to a sustainable and healthier world. With the consistent growth in technology and public awareness, there are currently a number of products which replace the need for asbestos. The implementation of green alternatives such as cotton fiber, lcynene foam and cellulose can reduce annual energy costs by 25 percent. Cotton fiber is also becoming a favorite insulation method. Made from recycled batted material, it is then treated to be fireproof. Water based spray polyurethane foam, lcynene, is a healthy insulation which contains no toxic components.
Many health and economic benefits can be achieved as well. These include: Conservation of natural resources, enhance air quality, protect Eco systems, energy sustainability, increase property value, improve quality of life, improvement of pulmonary and cardiac health and reduction of waste.
Discover the power of business coaching – Book a Free 30-minute consultation with Jan